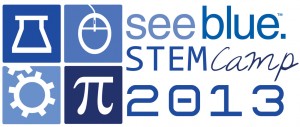 Today we welcomed seventy 5th and 6th from across the state of Kentucky to the 4th annual See Blue STEM Camp! We had a great first day of camp today!  All of the kids enjoyed the activities.  They were able to tour of the Vis Center as well as the Engineering Buildings.  Dr. Bruce Walcott, Professor of Electrical Engineering, also had them build towers out of some rogue Lego parts.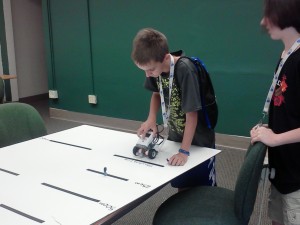 On the robotics side the students got busy building their robots and then participated in the distance challenge.  They had to program their robots to drive up to a figure but not knock it over.  Tomorrow they will move into more difficult programming challenges.
Up tomorrow is Ms. Carolyn Crowdus, from the College of Medicine, who will guide the campers through the neuroscience of the human brain.  Her presentation, "Got brains? A journey through the human mind" will help campers explore and learn about the vast intricacies of the human mind. Students will have the opportunity to explore actual brains and stem cords. If you prefer your student not to participate in this activity or if you think the activity will cause a reaction please let us know.
Tomorrow night we are planning on the observatory visit – watch your email for more information!
Check out the following link for pictures: