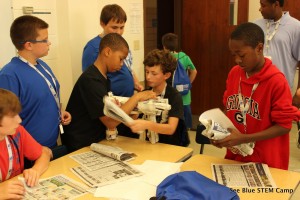 On the final day of camp, Dr. Leslie Vincent, from the College of Business, kept the students very busy investigating sustainable solutions and dreaming up big ideas. They had the opportunity to do some team building activities including another bridge building activity, which was a nice extension from what Dr. Jong did with them yesterday. The students were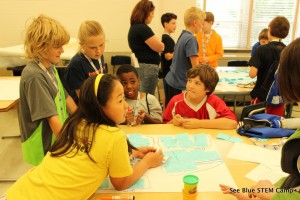 immersed in "design thinking" as they came up with their dream sustainable product.
For the final day in Robotics, the students had mini-competitions…with themselves. Instead of doing a full competition, the students worked on completing the individual challenges for Green City. We saw lots of dams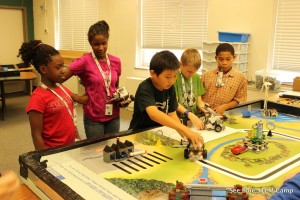 being broken down, smoke stacks being replaced, etc. The students really seemed to enjoy robotics this week and learned a lot.
We took some video today and we'll try to get it uploaded by Monday at the latest. We really enjoyed this group of campers and we hope that they will consider coming to the See Blue STEM Camp next year!