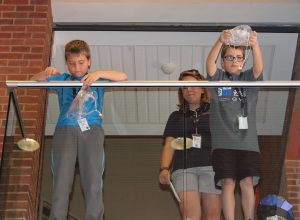 The red/blue groups got to experience mathematical modeling, physics, and flying objects with Dr. Cindy Jong today. After learning and building, they took their airplanes, copters, and parachutes for testing…many were successful in hitting the bullseye!
The Yellow/Green groups were so excited coming in today after hearing about the animal dissection and display yesterday! Dr. Bryant again shared her passion for animals, helping them, and her love of STEM with the students. She studies why animals die in ord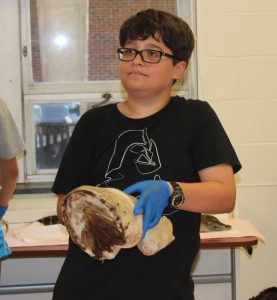 er to help prevent it from happening in the future. They got to see some really cool things – such as round worms, a cancerous cow organ, a horse heart, etc. After that, the students got to do their own exploring and learning about organs by dissecting a pig. Most of them handled the dissection really well; they were excited to use the special tools and explore the different parts!  While learning about the different organs and their functions, they played bingo as well!
Exposing students to dissection and organs is essential these days as dissection is no longer a regular part of the science classroom. Although some students are averse to this information and experience, it is important that they do have an experience and that we are able to produce doctors, veterinarians, and pathologists that continue to make breakthroughs in medicine and disease prevention in both humans and animals.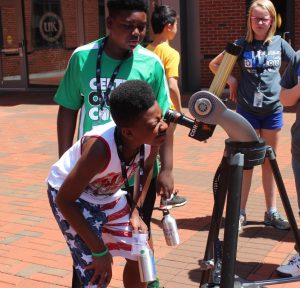 During lunch, the Mr. Tim Knauer came with his special telescope and the students got to look at the sun. They all thought it was pretty cool…it was a great sunny day to view!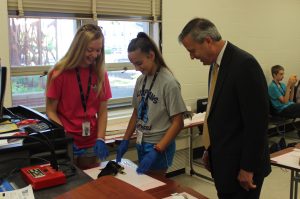 We had a special guest at camp today. Secretary Hal Heiner came and visited camp along with Dr. Wayne Lewis and Bridget Papalia from the Kentucky Education & Workforce Development Cabinet. They were very impressed with the students and loved seeing them interact and have fun with hands-on STEM content. Kentucky is really trying to be more innovative and move STEM forward in the state.
In their words…
Red/Blue Groups
What did you learn about today that you did not know before?
i learned about velocity on & that it is the speed of something in a certain direction also i learned what acceleration is
that violocty is how fast and what direcion its going
when you rub a balloon against your hair it takes the electrons away
i learned that when air hits a planes wing it splits and goes up and down
how to make a proper paper airplane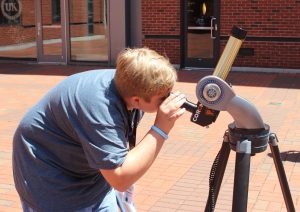 What did you like about what you learned today?
i liked building parrachutes and paper airplanes
the physics all of it
i liked it because we got to experiment with paper airplanes, ballons, and parachutes
everything because today = fun
i liked that we got to make our own parachutes and drop them
Would you like to learn more about this topic?  Why or why not?
yes because I am interested in flying
i would like to learn more about earodynamics because I enjoy building parrachutes
yes. i love physics
yes. i would like to know more paper airplanes to make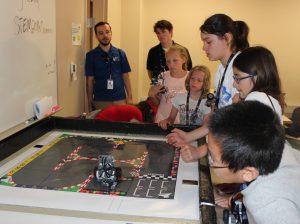 Yellow/Green Groups
Today I learned in depth what each organ/part of the body does and where they are located. We also learned about the deformities of animals.

I loved dissecting the pig and learning about all the body parts. I also liked observing and touching the malformed heads.

I would, I want to become a doctor when I grow up and to do so I need to know a lot about anatomy. Dissecting animals really helps me learn more.

That there are a lot of similarities with animals and humans.

That by dicecting animals you can learn things to help her animals

Dissecting animals isn't for the faint of heart.

Pigs are complicated creatures.
Conversation Starters…
Red/Blue Groups
How do forces serve to push or pull objects?
How does motion connect force and influence objects to move?
How does force lift? Thrust? Drag?
How did you create your parachute? Were you able to drop it onto the target?
How did your airplane fly? What did you take into consideration when you made your airplane?
What challenges did you complete in robotics?
How do you decide what to program onto your robot?
Yellow/Green Groups
What is animal necropsy? Why do we do it?
What did you learn today about the organs?
Which is larger…a horse's heart or the horse's brain?
What was the coolest thing you saw today? What was the grossest thing you saw today?
What challenges did you complete in robotics?
How do you decide what to program onto your robot?
Photo of the Day… click here to view the rest of the photos