Wow…what a great ending day to an awesome week of camp this year! This has definitely been one of our best years yet!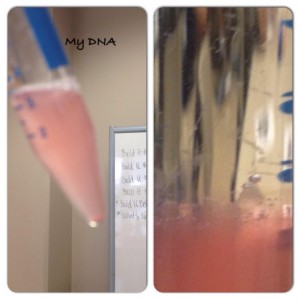 The yellow and green groups take to take an up close look at DNA with Dr. Park-Sarge from the College of Medicine. How up close? They were able to extract their dna was a sample swab they took of themselves. I have to say, it was one of the coolest things I've seen in a while!
The red and blue groups explored and learned about materials science today with Dr. Brett Criswell, a science education faculty member in our Department of STEM Education. He kept them very busy the entire time, conducting mini experiments, testing their
hypotheses, discovering electrical properties of different mediums via squishy circuits, and even got to make their own gak! The gak recipe was sent home with your child(ren)…it's a pretty easy and safe recipe to make and it's actually not quite as messy as play-doh. The students really enjoyed learning about different properties and felt like "real scientists" since they wore goggles when they were conducting their experiments.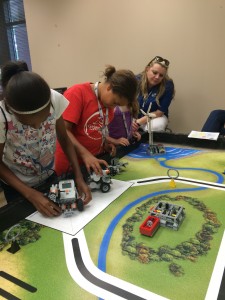 In robotics, both groups had their final days with their Green City and Space Challenges. There were so many successes, it's hard to talk about all of them! Mark Evans, our head of robotics for camp, made some changes to the robotics curriculum this year and we were really pleased with the end result. All of the groups got through at least one challenge on the mats on Friday, and most got through 2 or more. This year's students were really into robotics more than any group we've ever had. On top of the knowledge they gained with basic programming, they really increased their communication and teamwork skills this week!
Looking back, the directors felt this was one of our most successful weeks in the 6 years the camp has been in existence; this is in large part thanks to your efforts as parents and guardians. Thank you for taking the time out of your day to bring your child and pick them up from this unique opportunity! So many students left with positive attitudes towards STEM, an appreciation for STEM, and with a spark of interest in a STEM career.
In their words…
Yellow/Green Group: What did you learn about today that you did not know before?
– I learned that DNA results can be found using these steps that we used today
– Certain things can make cells burst
– the DNA bases, how they related to each other, how to look at my cells
– I learned that double helix ladders can only be right handed because if somebody had a left handed they wouldn't even exist
– the all cells have 46 chromosomes, also mostly every organism has right hand DNA
What did you like about what you learned today?
– how we were able to see in a test tube what are DNA looked like
– I liked extracting the DNA and making the DNA necklace
– It's interesting! I like the subject of biology
– I liked that I got to learn what the names of the letters lik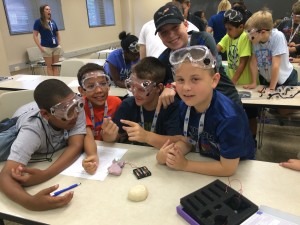 e A, T, C, G
Red/Blue Group: What did you learn about today that you did not know before?
– I learned about lots of different strengths of plastics
– I learned how to test plastic
– how to make silly puddy and ooblick
– I learned that scientists use weights from heights to test certain types of materials
– that bulletproof glass was plastic
What did you like about what you learned today?
– I liked to learn about how to make things
– it was very hands-on
– I liked making the materials
– making ooblick
Conversation Starters…
Yellow/Green Groups:
How did you find out what your own DNA was? What did it look like?
What kinds of things can make a cell burst?
What is DNA made of?
What challenges did you work today in programming your robot for the Space Challenge?
Red/Blue Groups:
What is materials science? What makes it special?
You did an experiment with several different types of sand today…what were you trying to figure out? Did your results match your hypothesis?
What is so special about the Gak/ooblik you made…and wait, you made that!!??
What challenges did you work today in programming your robot for the Green City Challenge?
Photo of the Day… Click here to view the photos and click here to view the videos we've been able to get uploaded. Don't forget to glance through the Twitter feed (no sign in needed!) to view pictures and videos from the week!