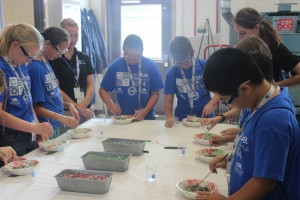 There was an exciting buzz in the air this morning with the red and blue groups eager to go on their field trip to the Center for Applied Energy Research (CAER)! The day definitely lived up to their expectations as they got to explore many different aspects of energy and energy consumption in Kentucky in particular. The students interacted with nearly 25 of CAERs research faculty and staff in their laboratories. They brought home a handmade paving stone. Be sure to ask them about the properties and differences of concrete and cement! The stones will need a few days to cure…if it gets a little crumbly or starts to crack, some water on the top should help that out while it cures. The students spent all day out there so there was no robotics for them today.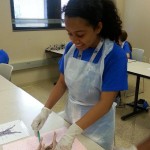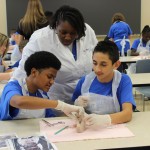 Meanwhile back on main campus the students had a fun and exciting day with Dr. Uneeda Bryant, from UK Veterinary Science. At last year's camp, this group of students experience medicine from the human side and so this year we decided to give students exposure to the animal side of medicine. Dr. Bryant brought a great energy to the classroom and got the students very excited about pigs! The students loved the exploratory activity and were even more excited to get to touch and experiment with some of the other animal items she brought with her. I think there were a lot of eyes opened to different side of medicine that many had not considered before!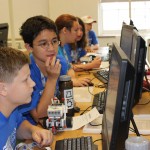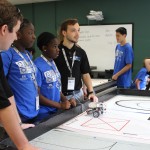 Robotics today for the yellow and green group meant a lot of time learning how to program. They are using the EV3s this year and the programming looks different than the NXTs. There was quite a learning curve with it, but it was so much fun to watch them catch on to programming and try to get their robots to go in a square and follow a line using the color sensor. They also explored the ultrasonic sensor and some got to the medium motor today as well.
It was another adventorous day for the students and the staff. We love having them on campus! It brings such energy and life to the building that is sometimes lost and forgotten in the late spring and early summer. The red and blue groups are eager to return to robotics and build some bridges tomorrow with Dr. Cindy Jong while I know the yellow and green groups are excited about their field trip to CAER. Don't forget long pants and closed toed shoes!
In their words…
Veterinary (yellow and green groups)
​I liked dissecting the pig because I am now interested in being a pathologist.
It was hands on and new
I would like to learn more about this topic because it will help me if I choose to become a biologist.
That we actually got to dissect a pig!
CAER (red and blue groups)
​​I learned things that I had never even heard of before.
It was fun I liked the stones.
Many things like coal ashes can be recycled and turned into something new.
That not just the person teaching was doing it we all were.
That was FUN!
Conversation Starters…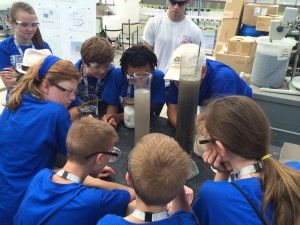 Red and Blue Groups
What did you learn on your energy walk today?
Where does Kentucky rank in comparison to the other states in energy usage? Why is our ranking so high when we have such a low population?
What in the world is Flocculation? (hint – pictured here)
What was your favorite part of going to the Center for Applied Energy Research?
Yellow and Green Groups
What did you like or not like about dissecting the pig today? (Some did not like it so it would be good to talk to them about why…especially some of them mentioned to us that they wanted to go into medicine but did not like dissection at all.)
What did you learn about pathology and veterinary science?
How did you like programming the EV3 robots? How did you know what to change when you were trying to make your robot go in a square?
Photo of the Day… 
We took our group photos today so there are two…click either one to get to the photo gallery. We did a much better job of capturing photos and tweeting today…thank you for your patience!
Yellow and Green Groups at Memorial Hall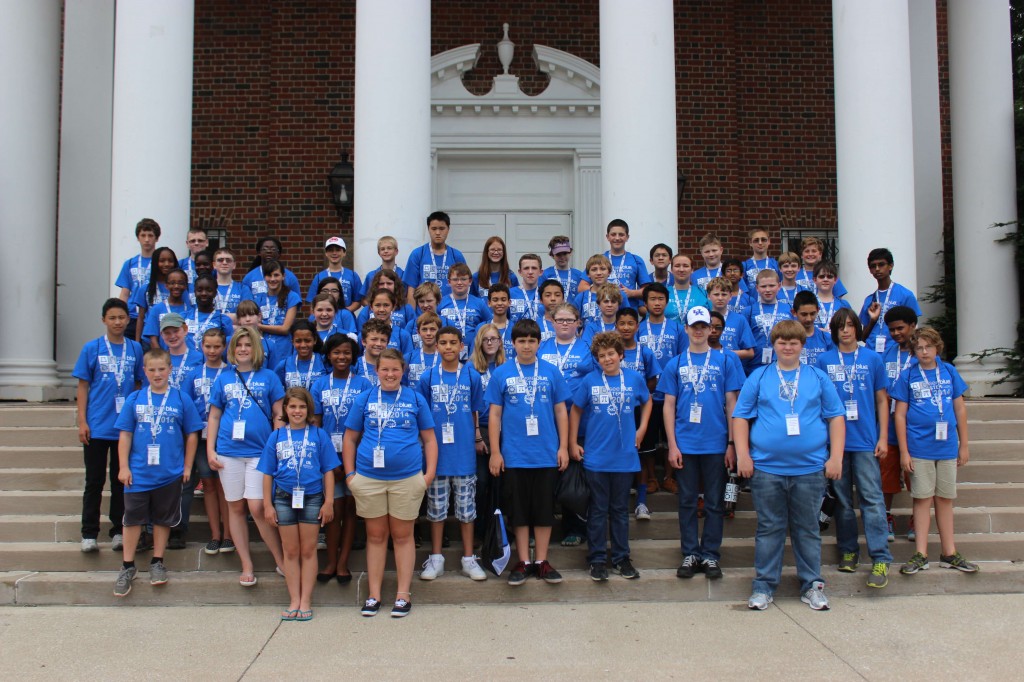 Red and Blue Groups at Center for Applied Energy Research