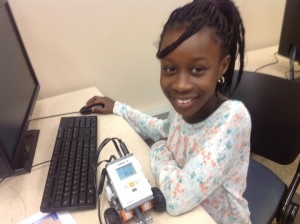 Thursday was another eventful day at See Blue STEM Camp. The students are really engaging well with the content and material and the loudness of the chatter is increasing exponentially, which we view as a good thing. They usually come in pretty quiet and reserved at the beginning of the week, and as they get more comfortable with their groups, the structure of the camp, etc., they really start to come out of their shells. STEM Camp has a knack for bringing out the smiles and voices of even the ones who don't usually talk!
The Blue and Red groups got to explore the wide and wonderful world of engineering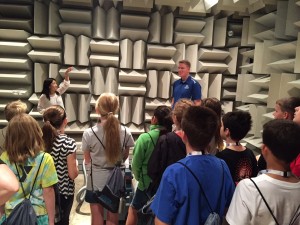 today with Dr. Bruce Walcott, a professor in electrical engineering and one of the co-founders of STEM Camp. The students dove deeper today into the design engineering process they learned about on Monday and got to apply it further through small investigations. From a lesson on buoyancy to building small generators to looking at how sound waves move, many were inspired to consider a career in engineering. They got to tour the engineering complex and several of the laboratories where the UK students and faculty really get to build and test their ideas. They got to talk to the UK students and faculty; our students asked them some great questions! The favorite on the tour again today was the anechoic chamber!
The Yellow/Green Groups explored and learned about materials science today with Dr. Brett Criswell, a science education faculty member in our Department of STEM Education. He kept them very busy the entire time, conducting mini experiments, testing their hypotheses, discovering electrical properties of different mediums via squishy circuits, and even got to make their own gak! If the cornstarch in your pantry goes missing, you might check your child's room… 🙂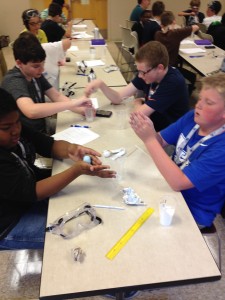 In robotics today, each group started their challenge…red and blue groups started the Green City challenge which focuses on ideas around sustainability and energy. The yellow and green groups started the Space Challenge today which focuses on ideas around physical science and astronomy. Since it was new, there were some frustrations, but as they got the hang of the concept of the new challenges, there was some great excitement in the air. All are looking forward to the final day tomorrow where they will really get to put all of their skills together for some more complex programming.
It's hard to believe tomorrow's the last day! We sure have enjoyed having them this week. They are truly a great group this year!
In their words…
Red/Blue Groups
What did you learn about today that you did not know before?
that it is possible to create a room without echos

that slinkies have different sound waves
I learned how a boat floats
that concrete could float
dencity and how it works [sic]
how engineers solve their problem
What did you like about what you learned today?

learning about echolocation

making aluminum foil float
I love engineering!
calculus
how we got to build a genorator [sic]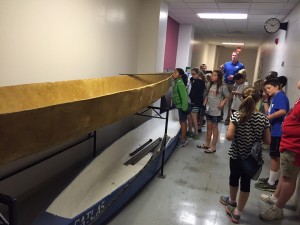 Yellow/Green Groups
What did you learn about today that you did not know before?
glue+water+Borax = Slime!

I learned about how to make electricity out of playdough, the different sands and how to make goo

That kinetic sand can't absorb water in any way

that scientists have to catigor things based on structur and characteristics [sic]

what material science is, how to make silly putty, different kinds of sand

that you could make a solid out of water and glue

You can make putty using borax, water, and glue. Also, magic sand is hydrophobic (water resistant)
What did you like about what you learned today?
Getting to make my own gak. An learning about the field of material science
I liked that I got to keep this gooey stuff and you could bounce it
you can turn corn startch into science

I liked making all the slime

the scientists can use the materials to make better modified items to change and solve problems

materials science is awesome. I'd like to learn how to make more mixtures
Conversation starters…
Blue/Red Groups:
What was your favorite part about the engineering tour today?
What is an anechoic chamber?
How many pennies did your boat hold? If you could build it again, what would you do differently? (The red group didn't have time to get to this today)
Is there a particular field of engineering that you think might interest you?
What challenges did you work today in programming your robot for the Green City?
Yellow/Green Groups:
What is materials science? What makes it special?
You did an experiment with several different types of sand today…what were you trying to figure out? Did your results match your hypothesis?
I heard you watched a really cool video about corn starch…can you tell me about it?
What is so special about the Gak you made…and wait, you made gak!!??
What challenges did you work today in programming your robot for the Space Challenge?
Photo of the Day… (Click here to view the photos and click here to view the videos we've been able to get uploaded). Our teacher leaders are rocking the Twitter world this week, so don't forget to follow us throughout the day!
See Blue STEM Camp was featured on UKNow today…you can read more about it here!