Aside from the morning rain during drop off, we were able to avoid the rain and storms yesterday! The students are really enjoying the cooler weather this week, especially when walking across campus.
In the red and blue groups today, they worked with Dr. Haley Bergstrom and her team investigating Human Body Performance and how we can use STEM to learn and improve. They got to do some of their own testing and investigations, doing some physical activities and recording their stats along the way. In robotics, they tried their hand at building a car and see if they could get it to move. There were lots of successes today and they were pretty happy with their work! Some were dismayed that the robots didn't move as fast as cars in real life do 🙂
In the yellow and green groups, they got their turn with virtual reality. They learned about what virtual reality is, why it is useful, and how people build VR worlds. Students got to be creative and build their own VR worlds and show them off. Many of the students actually found the VR to be relaxing and took advantage of the moment. In robotics, they dove deeper into the challenges, working with some of the sensors they can use to help get their robot to do things. They are really loving the challenge of figuring out what's working and not working on their robots. Their persistence is amazing to keep trying and trying!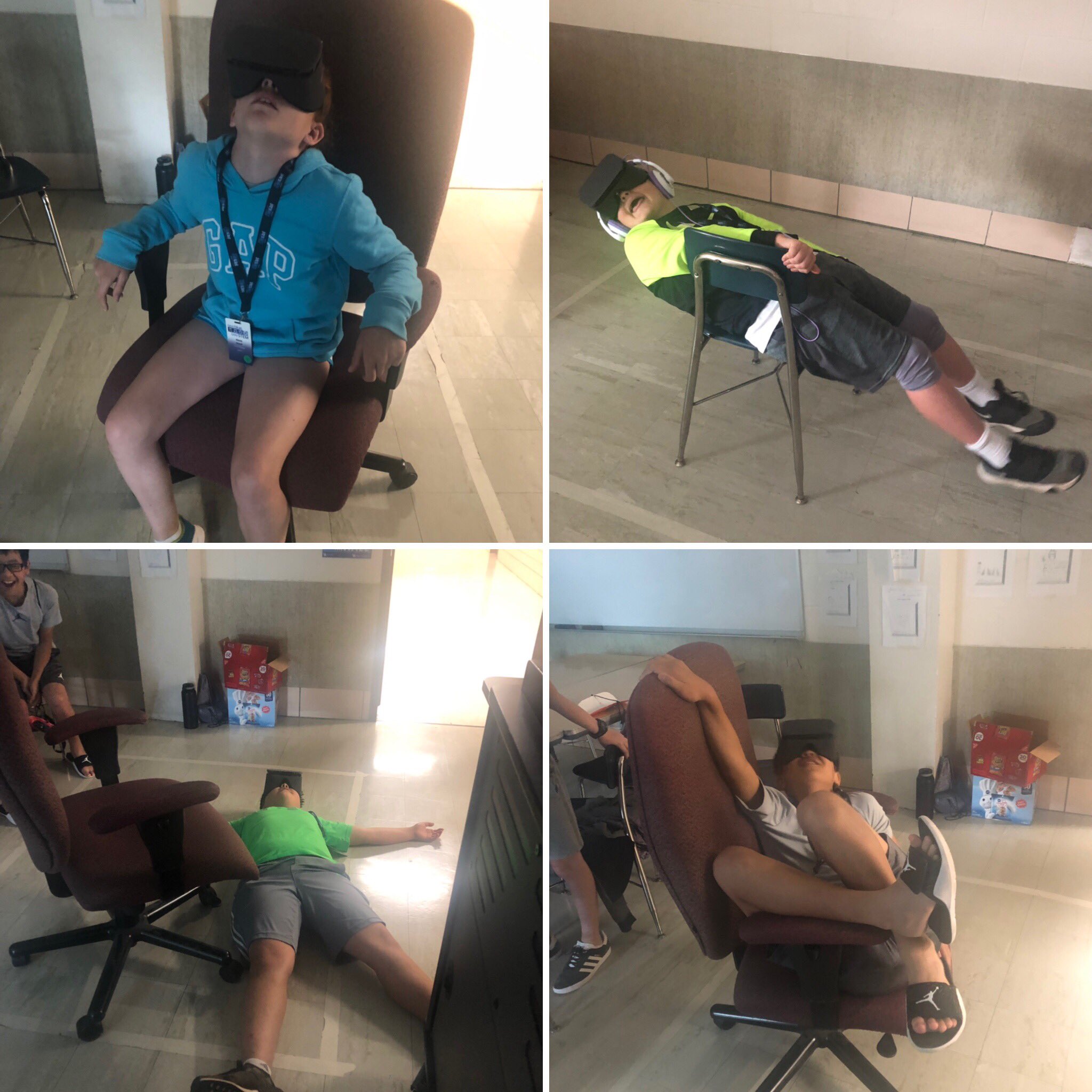 In Vex Robotics, they worked with their robots to use their claw and move boxes around. They scored points based on how their robots performed in the field.
In their Words…
Red/Blue Groups
That we have energy in are body.
I learned that blood is actually blue, but when it touches oxygen it is red.
I would like to learn more so when I get musch older, and my children feel sick, I can identify what is wrong with their bodies.
That an NFL player has to jump and run 114.3 cm and 3.81 sec
Yellow/Green Groups
I didn't know that there were two cameras to fils a vr.
I learned how to create your own VR/360 video.
it's very interesting and it could eventually help evolve the world.
There are 3 VR tales VR ar and 360 and how to make 360 video
Conversation Starters…
Red/Yellow Groups
What was the most interesting thing about the heart that you learned?
What color is your blood in your body? What causes it to change colors?
How high does a NFL player have to jump?
Tell me about the car you built today? How did you get it to move? How far did it go?
Yellow/Green Groups
What was experiencing Virtual Reality like?
Did you feel like you were in a room or in a different place when you had the goggles on?
If you could create a VR world, what would it be? Why?
What challenges did you complete today with your robot? What were you trying to get your robot to do?
Did you try out any of the sensors? How did you get them to work?
Vex Robotics
How did your robot do in the field today?
How did it capture the boxes? Were you able to use your claw at all?
Did you have to make any modifications to your robot to get it to move better or differently?
Photo of the Day…